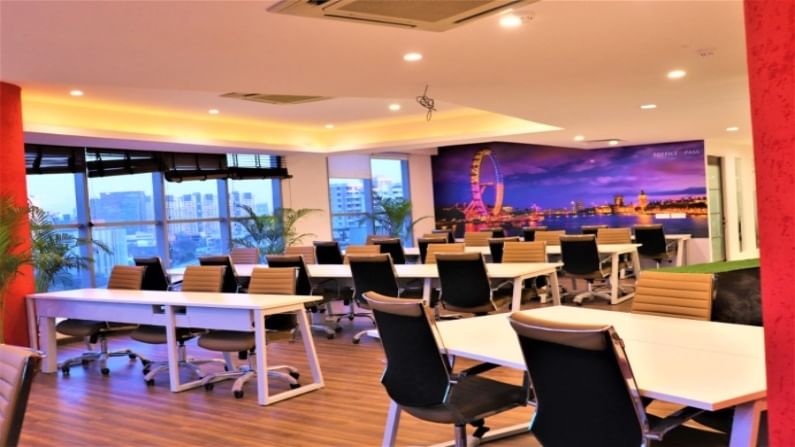 The commercial office landscape is projected to change dramatically in the coming years. Currently the commercial real estate stock in top 8 Indian cities is around 600-650 Mil SqFt. Annually around 35-40 Mil SqFt of fresh stock gets added; while the absorption is 30-35 Mil SqFt (pre-COVID). There is almost 15% of vacancy in the national commercial real estate market.
For knowledge organisations, office space is normally the second or third highest expense after manpower and marketing, so it pays to think strategically. A business owner has the options to work out of leased office compared to a co-working office.
WHO SHOULD USE A CO-WORKING SPACE?
Co-working emerged as a new trend in the market, initially enabling organisations to take an office space for a short duration to fill the gap between working out of a home office and leasing commercial space. In the West, this concept became extremely popular among startups, small businesses and freelancers who take on co-working for a duration starting from six month to a year (and sometimes more).
As the market evolved, co-working became the office of choice not only for small companies, but also for MNCs and large companies as it passed on an economic benefit that was hard for organizations to ignore.
Here we take a look at the scenarios where co-working office should be preferred over own leased office:
— Your business needs to save money: Companies may not want to block their hard earned capital in long-term leases, paying 4-6 months of security deposit and doing up the office to suite their requirements. It's understandably especially given the uncertainty caused by the Covid-19 pandemic. Co-working is an affordable way to obtain professional office space until you are ready to pay for your own location. By renting co-working space on flexible terms (6-12 months etc), you can save money without a long-term commitment.
It is a fact that working out of a co-working space can help organisations reduce office related expenses by 18-2%. This is a huge saving considering they do not have to spend time and effort to manage the office (as that is done by the co-working operator)
— You have a relatively small team: Coworking works great for smaller teams of 50-100 people. You can rent desk space, obtain a presentable address and have access to a professional space for team or client meetings. It is great for business who don't like working out of their home or a café and wants an open but professional work atmosphere.
— You have very specific short-term needs: Co-working works best during times when future is not extremely predictable (like in the present COVID19 pandemic). Co-working spaces often give membership based on organisations specific short-term needs for 4-12 months. If the dynamic nature of co-working environments & the opportunity to meet like-minded people inspire you, then this is the right choice.
— Your business is based on networking: If your business requires you to actively interact with other people to achieve your goals, you'll find them at co-working locations. Startups, small businesses and freelancers can network, collaborate and seek advice from co-workers. Co-working is highly recommended for designers, journalists, human resource professionals, content writers, developers, salespeople, accountants, wealth managers, agents, freelancers and independent business owners.
WHO SHOULD USE YOUR OWN LEASED OFFICE?
Own leased office works well for business where conserving cash comes second fiddle, compared with confidentiality of work, security of data and fear of losing an employee. Large organisations, public sector companies, banks, defense, security and consulting companies are a good example of such organizations.
So, here's a look at the scenarios where own rented office should be preferred over co-working:
— You are a steady stage business: Your business has scaled and earning decent cash and your current priority is to project a positive image in the eyes of different stakeholders, you would prefer own leased office. Own office is often used to send a signal regarding the financial health of the business. If your office is located in an up-market location, employees and clients perceive the organization to be in good financial health.
You are able to forecast your future earnings: Own leased office requires lease commitment for a minimum of three years. In many instances, the contract is signed for six to nine years. There are rent escalations of 10-15% after every 2-3 years that are part of these agreements. If you are able to forecast your future earnings accurately, you may consider signing a lease contract.
Your business is expanding fast: Your business has acquired momentum and you are adding employees in various functions. In such a situation, you would soon outgrow a co-working space and it is recommended that you take a rented office with space for current as well as future requirements.
You are concerned regarding data security and confidentiality: You are in a business that requires you to maintain security and confidentiality of the data, research, user privacy etc, you would like to take your own rented office. Own space allows you to set up physical security, video surveillance and data security firewall as required by the business. These may not be possible in a co-working space.
Co-working offices currently account for 8-10% of all office absorption. This is commendable considering the fact that Indian co-working industry is just 3-4 years old. Given the fast absorption of the co-working model, it is projected that co-working will account for 25% of all office requirements in 5 years from now. COVID pandemic is driving a shift towards #WorkNearHome or #NeighborhoodCoworking where-in employee prefer to work out of a co-working office close to their place of residence rather than commuting long distance in a public transport.
(The writer is founder and CEO, The Office Pass (TOP). Views expressed are personal)
(Follow Money9 for latest Personal finance stories and Market Updates)