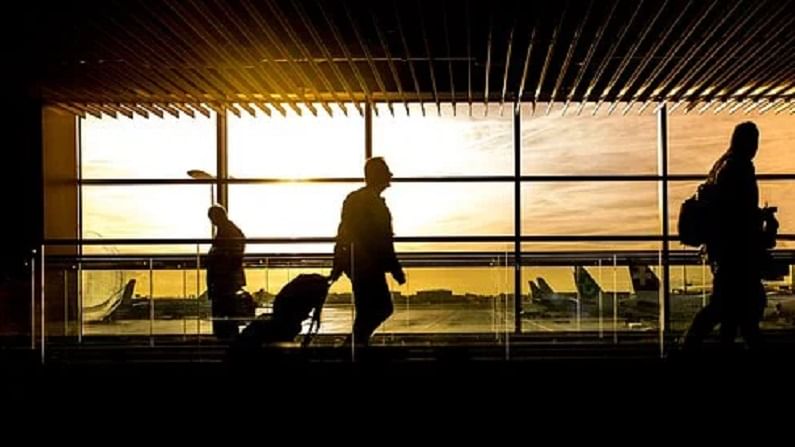 International passengers will need vaccination certificates or negative RT-PCR tests to be allowed to enter the country.
How soon will the Indian tourism industry get back to the pre-pandemic level and even improve upon it? International flights were suspended on 23 March last year after a spike in covid cases. International charter flights have been permitted from 15 October and scheduled international airlines can resume operations from the middle of November. International passengers will need vaccination certificates or negative RT-PCR tests to be allowed to enter the country.
Being contact intensive the travel and tourism industry took a big hit. India's tourism earnings fell 36 percent from $191 billion in pre-pandemic 2019 to $122 billion last year, as per the World Travel and Tourism Council (WTTC). Spending by foreign tourists fell sharply by 61 percent from $31 billion to $12 billion, while domestic tourist spending slid from $140 billion to $97 billion.
When I interviewed him for a podcast series on trends in sectors affected by covid for the Confederation of Indian Industry, Puneet Chhatwal, MD and CEO of The Indian Hotels Company Limited, or the Taj group of hotels said he did not expect business travel to be what it was in the short to medium term because of work-from-home habits and the lurking fear of infection from new variants of the coronavirus. So instead of short-duration, long-haul flights done frequently, business travellers might undertake fewer journeys for longer stays when face-to-face meetings become necessary. But the hesitancy would wear off over time as happened after the 9/11 terror attack in the United States and the 2008-09 financial crisis.
Domestically, Chhatwal said while the business of high-end business hotels had been considerably impacted, budget business travel showed resilience. The Taj group's Ginger hotel chain was able to earn 60 percent of its pre-covid revenue, "which is a very good number." Junior and middle managers, younger in age were less reluctant to travel, he said, than older executives who avoided exposure as their risk levels were higher.
WTTC says the pandemic has made travellers inclined towards the familiar, the trusted, the predictable and even low-risk. It says domestic and regional travel, extensive research and planning, and the outdoors will reign in the short-term.
Such a trend was visible in India for Chhatwal. Travel is a "fundamental need," he said, whether for business or leisure and people don't like being cooped up for extended periods. Domestic destinations were packed after travel restrictions were lifted between the first and the second waves. Udaipur had the best season in 10 years in terms of overnight stays. The same was true of Goa. At Corbett national park, Jaipur, Rishikesh, Haridwar and Shimla it was difficult to get rooms, Chhatwal said. After the second wave receded people travelled with a vengeance and there were reports of traffic snarls at hill stations.
One of the trends that got accentuated during the pandemic was stays at small properties of five to 10 rooms in picturesque locations, says Vivian Peres, an industry veteran who arranges bespoke travel for wealthy foreign tourists.
Typical of this trend is the Postcard Hotel started in 2018 by a former president of the Oberoi Group. Intimate destinations, slow, simple and free of complications, situated in neighbourhoods and local communities, serving food made for local ingredients, sustainable and authentic without the "sugary welcome drink' are some of the qualifiers it uses in its advertising.
Sinna Dorai of the Murugappa group is is in the same category. It is a string of repurposed vintage bungalows in tea and coffee plantations. Meaning 'Little King' in Tamil, that was how assistant managers of tea estates were respectfully addressed. The guests pay for deprivation – of wifi, swimming pools, televisions and "mile-long buffets".
Taj Group's Ama Stays and Trails is a pricier version of this category. It offers 'heritage bunglows" in "pristine locations" and "lush coffee plantations" with 'limited staff" who serve "local cuisine."
Chhatwal says the experience of other countries shows that the trend of people wanting to get away to isolated, small properties will grow over time. It got a push from the pandemic as people took breaks from enclosed spaces and avoided crowds.
Trust, confidence and transparency of communication are important for customers to get out of home and into hotels, says Chhatwal. Over the past year and a half, hospitality companies and brands have been building a culture of collaboration, education, awareness and sharing of best practices. Touchless services, digital menus, QR codes, safety and health protocols will be the new normal, he says, like going through a baggage scanner.
Will digital and contactless mean fewer jobs in a people-intensive industry? "We were champions of over service," Chhatwal says, deftly avoiding a direct reply. The pandemic is an opportunity to build on the fundamentals of sustainable tourism.
(Follow Money9 for latest Personal finance stories and Market Updates)