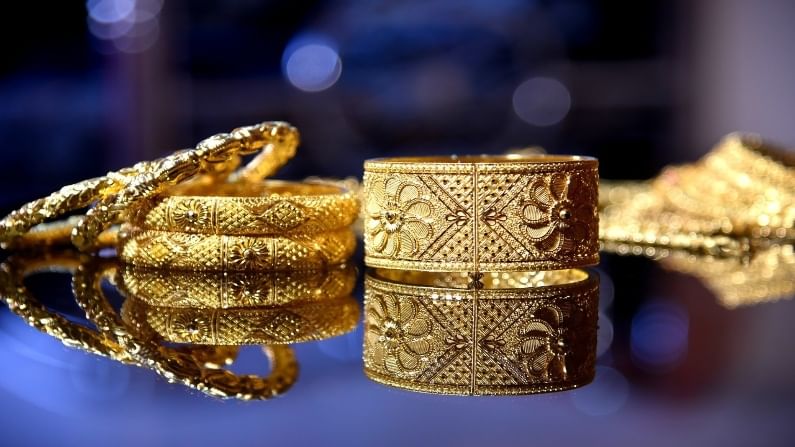 Silver was trading at Rs 66,283/kg on Thursday, down by Rs 92 from Wednesday's trading price.
After mixed trading sessions since Monday, Indian bullion markets have witnessed a small change on Thursday in early trading session. Gold was slightly up, where silver traded almost flat. The 24-carat variant of the yellow metal was trading at Rs 49,219/10 gm, up by only Rs 158/10 gm from the previous day's price of Rs 49,061/10 gm, according to rates provided by the Indian Bullion and Jewellers Association (IBJA). The price of 22-carat gold was at Rs 45,085/10 gm, up by Rs 145 from the previous day's rate of Rs 44,940/10 gm.
"Several technical evidences are pointing out that gold will likely remain pretty bullish in near future. The short-term target for gold is now 50,500. Yearend trends as well general trends tend to be bullish for gold which fits nicely with present price action," said Manoj Dalmia, founder and director, Proficient Equities Limited.
"An upside breakout in gold is expected in coming days. Till then, we expect gold to be in consolidation mode. Any fresh triggers may give a momentum to gold prices. Else the choppy trade may sustain for few more trading sessions," said Ravi Singh, vice president, ShareIndia.
Silver almost flat
Unlike yellow metal, silver was trading flat on November 18. Silver was trading at Rs 66,283/kg on Thursday, down by Rs 92 from Wednesday's trading price of Rs 66,375/kg, according to the rate provided by IBJA on Tuesday.
"Gold and silver prices were higher in midday US trading on Wednesday. Bulls stepped in to buy Tuesday's dips in the metals' prices, which is a sign of strong markets. Gold and silver as an inflation hedge remain the major bullish element in the marketplace at present," said Amit Khare, AVP, Ganganagar Commodity Limited.
"Gold and silver showed positive movement on November 17 trading session. Yesterday we saw some buying in bullions at lower levels which may continue for next few trading sessions. As per technical chart overall structure of gold and silver are looking positive," he added.