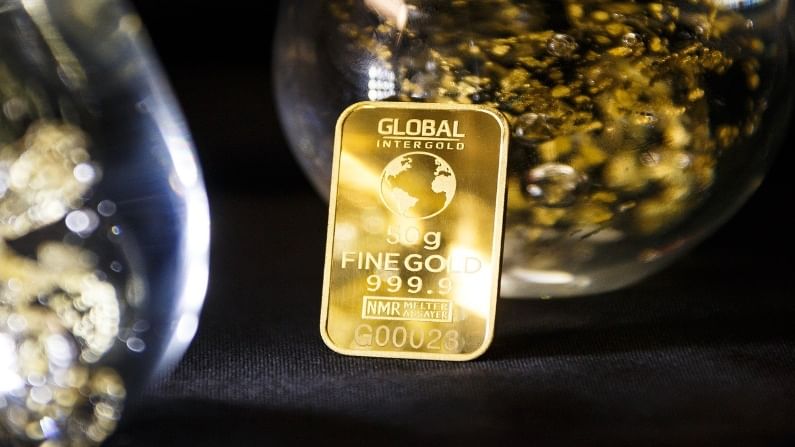 Silver was trading at Rs 66,375/kg on Wednesday, down by Rs 305 from Tuesday's trading price of Rs 66,680/kg.
After a positive trading session, Indian bullion markets again experienced a fall on Wednesday in the early session. Both gold and silver were trading lower in the respective trading session. The 24-carat variant of the yellow metal was trading at Rs 49,061/10 gm, down by Rs 378/10 gm from the previous day's price of Rs 49,439/10 gm, according to rates provided by the Indian Bullion and Jewellers Association (IBJA). The price of 22-carat gold was at Rs 44,940/10 gm, down by Rs 346 from the previous day's rate of Rs 45,286/10 gm.
"Several technical evidences are pointing out that gold will likely remain pretty bullish in near future. The short-term target for gold is now 50,500. The general trend for gold would tend to be bullish for gold which fits nicely with present price action," said Manoj Dalmia, founder and director-Proficient Equities Limited.
"The tug of war between bulls and bears is keeping gold range bound zone. We expect gold to show some upward move this week. The higher US bond yields and stronger dollar pushed gold prices lower yesterday," said Ravi Singh, vice president, ShareIndia.
Silver trading low
Like yellow metal white metal was also trading in the negative zone on November 17 trading session. Silver was trading at Rs 66,375/kg on Wednesday, down by Rs 305 from Tuesday's trading price of Rs 66,680/kg, according to the rate provided by IBJA on Tuesday.
"Gold prices were moderately lower in midday dealings on Tuesday, after hitting a five-month high overnight. Silver pushed to a three-month high and then backed off. Both precious metals saw some routine profit-taking from the shorter-term futures traders, following recent good gains," said Amit Khare, AVP- research commodities, Ganganagar Commodity Limited.
"As per technical charts overall structures of gold and silver are positive and strong. Momentum indicator RSI is also indicating the same on daily charts. So traders are advised to create fresh longs in small dips near given support levels," added Khare.