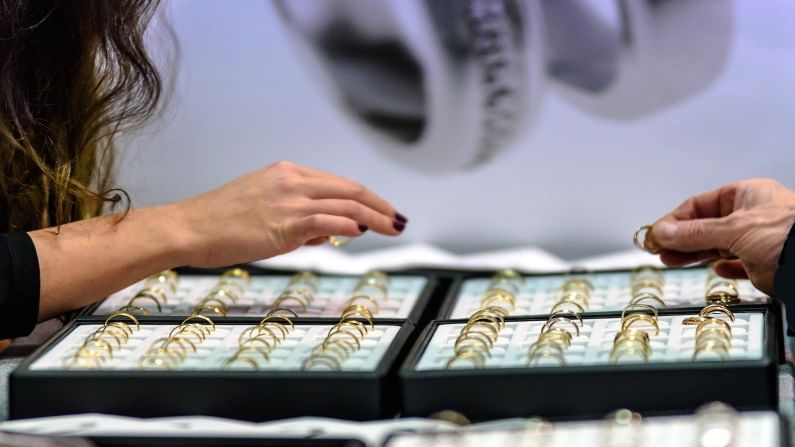 Gold and silver both showed negative movement on November 22 trading session and continue its rally on Tuesday.
After a small dip on Monday, Indian bullion markets again witnessed substantial drop in price on Tuesday in early trading session. Both gold and silver price were under extreme pressure on November 23. The 24-carat variant of the yellow metal was trading at Rs 48,076/10 gm that slumped by Rs 1,874/10 gm from the previous day's price of Rs 49,950/10 gm, according to rates provided by the Indian Bullion and Jewellers Association (IBJA). The price of 22-carat gold was Rs 44,038/10 gm, down by Rs 799 from the previous day's rate of Rs 44,837/10 gm.
"There was a significantly big sell off in gold on Monday. However, prices are still quoting above the important moving averages of 100 and 50 days and the intermediate trend remains upward. The trend is shown with an upward slopping trend line in the adjoined diagram, starting from the September low of 45,769," said Manoj Dalmia, founder and director, Proficient Equities Limited.
"Gold fell nearly 2% yesterday as the dollar jumped after Federal Reserve Chair Jerome Powell was nominated for a second term. The US treasury yields surged as traders were perceiving that a more dovish policy may on the way. We expect this weakness may continue till 47,500," said Ravi Singh, VP, ShareIndia.
Silver down by Rs 1,200/kg
Like the yellow metal, silver was trading lower on November 23. Silver was trading at Rs 64,532/kg on Tuesday, down by Rs 1,195 from Monday's trading price of Rs 65,727/kg, according to the rate provided by IBJA on Tuesday.
"Gold and silver were sharply down in midday US trades on Monday, with gold notching a two-week low and silver four-week low. The yellow metal slumped, the US dollar index rallied to a 15-month high and US treasury yields rose when it was announced by President Biden that Powell would continue in his position for another term," said Amit Khare, AVP, research commodities, Ganganagar Commodity Limited.
"Gold and silver both showed negative movement on November 22 trading session and continue its rally on Tuesday. We saw huge profit booking in bullions at higher levels and gold, silver tested three-week low. As per technical chart overall structure of both the metals are looking positive. Momentum indicator RSI is also indicating the same thing," he added.
(Follow Money9 for latest Personal finance stories and Market Updates)