Petrol price hiked today
Petrol and diesel prices rose again on June 11 across the country after a day's pause. The auto fuel prices touched a new all-time high on Friday, with petrol and diesel becoming costly by 29 paise and 23 paise per litre respectively.
Petrol prices have already breached the Rs 100-mark in Mumbai. After today's revision, a litre of petrol and diesel in the country's financial capital costs Rs 102.4 and Rs 94.15 respectively. Currently, fuel prices are highest in Mumbai among all metro cities.
In Delhi, a litre of petrol and diesel is selling at Rs 95.85 and Rs 86.75 respectively, according to Indian Oil Corporation, the country's largest fuel retailer.
Here is the list of fuel prices in top-10 cities: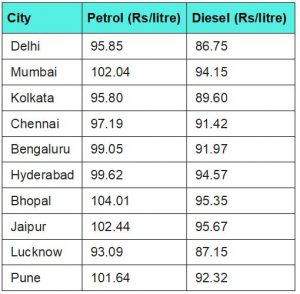 Petrol price has increased by Rs 3.83 in May, while diesel price has gone up by Rs 4.43 per litre. After today's rise, it added up to Rs 5.30 for petrol and Rs 5.84 for diesel. This was the 23rd price hike since May 4, when the state-owned oil firms ended an 18-day hiatus in rate revision in May.
Fuel price above Rs 100 mark:
Petrol prices have already crossed the Rs 100-mark in parts of Rajasthan, Madhya Pradesh and Maharashtra. Sri Ganganagar district of Rajasthan has the costliest petrol and diesel in the country at Rs 106.94 per litre and Rs 99.80 a litre, respectively. Indore, Bhopal, Gwalior, Jaisalmer, Jaipur, Banswara, Ratnagiri, Parbhani and Aurangabad are also few cities selling auto fuel above Rs 100 mark.
Prices differ due to difference in taxes:
Fuel prices differ from state to state depending on the incidence of local taxes such as VAT and freight charges.  Central and state taxes make up for 60% of the retail selling price of petrol and over 54% of diesel. The union government levies Rs 32.90 per litre of excise duty on petrol. Rajasthan levies the highest value-added tax (VAT) on petrol in the country, followed by Madhya Pradesh.
(Follow Money9 for latest Personal finance stories and Market Updates)