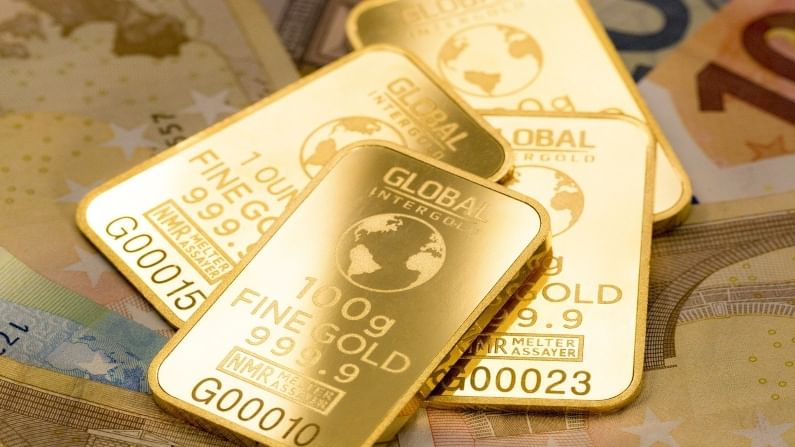 The price of 22-carat gold was also down by Rs 369 at Rs 42,565/10 gm.
After a positive trading session, gold and silver prices again declined in early trading sessions on September 23. Due to multiple reasons, gold and silver prices are again dipping in early trades. The 24-carat variant of the yellow metal was trading at Rs 46,468/10 gm, down by Rs 403/10 gm from the previous close of Rs 46,871/10 gm, according to the rate provided by the Indian Bullion and Jewellers Association (IBJA). The price of 22-carat gold was also down by Rs 369 at Rs 42,565/10 gm. The previous closing price was Rs 42,934/10 gm.
"Gold prices reversed its entire earlier gains after Fed chairman mentioned gradual start of tapering its $120 billion monthly asset purchase. The outlook for gold is negative and becoming a purely skilled traders' play with pivotal price points," said Sandeep Matta, founder, TRADEIT Investment Advisor.
"Gold prices were lower and near daily lows in afternoon US trading on Wednesday. Last evening's statement from the Federal Reserve's Open Market Committee (FOMC) was deemed mostly neutral on US monetary policy and actually rallied the gold market initially. October gold futures were last down by $6.60 at $1,769.50. December Comex silver was last up $0.054 at $22.665 an ounce," said Amit Khare, AVP- research commodities, Ganganagar Commodities Limited.
"Gold on MCX as well as in the spot market closed on a positive note as fears of a spillover from China Evergrande's debt woes drove demand for safe-havens. Whether China's Evergrande will be able to meet its obligations is a key test today," said Ravi Singh, founder and director, DRS Advisory.
Silver drops again
After reaching almost Rs 61,000/kg level on Wednesday, silver again dipped and reached Rs 60,000/kg level on September 23. White metal was traded at the negative zone on September 23. It was trading at Rs 60,362/kg, down by Rs 592 from the previous close of Rs 60,954/kg.
"Gold and silver both showed a positive movement on September 22 trading session both on the Multi-Commodity Exchange (MCX) and spot market. October gold and silver were high on September 22. Gold and silver both are going to open gap down as per comex chart. This will be again a good opportunity for buyers, because in the technical charts, both metals are trading in the oversold zone. Momentum indicator RSI is also indicating that a strong positive divergence is there in the daily chart. So, traders are advised to create fresh buy positions in gold and silver in gap down opening and should focus on important technical levels given by the experts," added Khare.
(Follow Money9 for latest Personal finance stories and Market Updates)