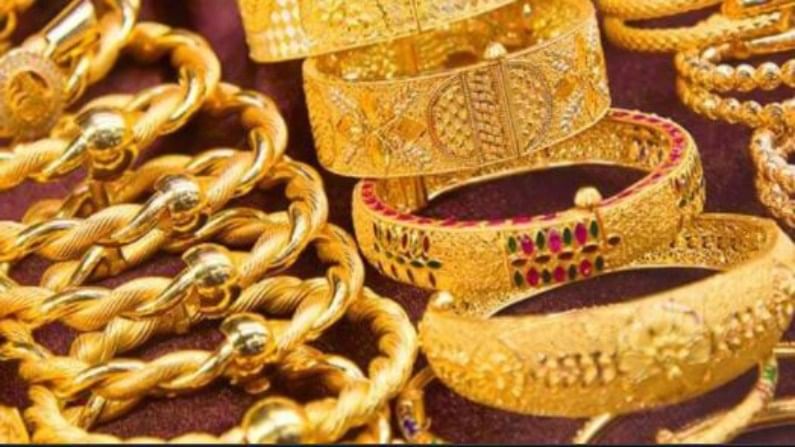 The price of 22 carat gold also jumped by Rs 252 to Rs 44,355 from Rs 44,103 per 10 grams on July 29. (Representative Image)
Due to domestic demand, yellow metal was shining on Friday. On July 30, the price of the yellow metal (24 carat) rose by Rs 276 to Rs 48,423/10 gms from Rs 48,147/10 gms on July 29, according to the rate of Indian Bullion and Jewellers Association (IBJA). The price of 22 carat gold also jumped by Rs 252 to Rs 44,355 from Rs 44,103 per 10 grams on July 29.
Silver price was up by almost Rs 620/kg on Friday in early trade amid volatility in the international markets.
Demand still low
"Gold and silver prices are sharply higher and near-record highs in the Indian market on Friday. Bullish outside market forces on this day are fueling gains in the metals. The World Gold Council said global demand for gold is yet to recover from the pandemic. The WGC said gold demand during the first half of 2021 was the lowest since 2008. The April-to-June period saw global gold demand at 955.1 metric tons (MT), a reduction from 960.5 MT over the same period in 2020. August gold futures were last up $32.20 at $1,831.90 and September silver was last up $0.943 at $25.82 an ounce," said Amit Khare, AVP- Research Commodities, Ganganagar Commodities Limited.
Silver shines again
Silver prices witnessed a sharp rise on Friday too. It went up by Rs 613 to Rs 68,113/kg from Rs 67,500 in early trade on July 30.
Silver traded around Rs 67,250 per kg level since July 26. But on July 29, silver first crossed the psychological level of Rs 67,500 in the recent past and today it crossed the Rs 68,000 mark.
"Precious metal shines after some initial hesitation in the aftermath of the FOMC outcome mentioning that the central bank will not be in a hurry to back off from its overall accommodative monetary policies. During the day Gold crossed the $1,830 level however could not close above this which is the key supply zone for the safe haven. Lower US home sales data and dollar weakening are other positives for the gold. Silver too is also crossed its Rs 68,000 physiological level at will give a good return in future," said Sandeep Matta, founder, TRADEIT Investment Advisor.
(Follow Money9 for latest Personal finance stories and Market Updates)