Growing trend of NFTs in India
Non-Fungible Token or NFT is trending now, similar to the "dot com" era in the late 90s. It is one of the most exciting developments that we have witnessed in the Blockchain domain in recent times, with both artists and investors ready to lap up this technology shift. This is the reason that today artists, musicians or sportspersons are selling their unique and non-replicable works through NFTs like never before. For example, former Pakistani fast bowler Shoaib Akhtar launched his own NFT as the 'first cricket NFT marketplace. Similarly, for Rajnikanth-starrer Sivaji: The Boss, NFTs will be launched by a Singapore-based marketplace. 
What is NFT?
NFT is basically visual or audio-visual digital assets with the evidence of ownership on a blockchain, powered by smart contracts in the same manner as in cryptocurrencies. It solves copyright infringement issues in crucial industries like music, art, and content creation in a digital world. But not only for artwork and a soundtrack, but the usage of NFTs is also growing beyond to include domain names, photos, videos, social media posts, blog posts, or even real estate. Experts say it will be the future of the global collectible market, estimated at $370 billion.
NFT Players
While NFT is a big market globally, the trend has started picking up with more players joining the bandwagon in India. The newest kid on the block is NFTically, which enables artists to launch their own NFT store or marketplace under their own domain. So now one doesn't have to hire developers, as the platform allows them to park the NFT marketplace under their own domain names like – https://nft.mybrand.com or https://www.mynftmarketplace.com. Being a B2B SaaS platform, NFTically enables celebrities, influencers, gamers, clubs, and enterprises to launch their own NFT store or NFT Marketplace globally.
Toshendra Sharma, founder and CEO, said "NFT market-related transactions are soaring to new heights every day, and given our relationship with art, culture, and emotion, India can be the epicenter of the NFT uprising. Through NFTically, anyone can launch any number of NFT marketplaces and get the right value of their creation."
NFTically currently supports trading and minting in Ethereum, Polygon, Binance Smart-Chain. The interface also allows Visa and MasterCard payments for wallet top-ups.
Similarly, WazirX and ZebPay also offer an NFT marketplace. The marketplace is open to everyone who wants to buy or sell their NFT. However, unlike NFTically one cannot create its own marketplace or store under your own domain name.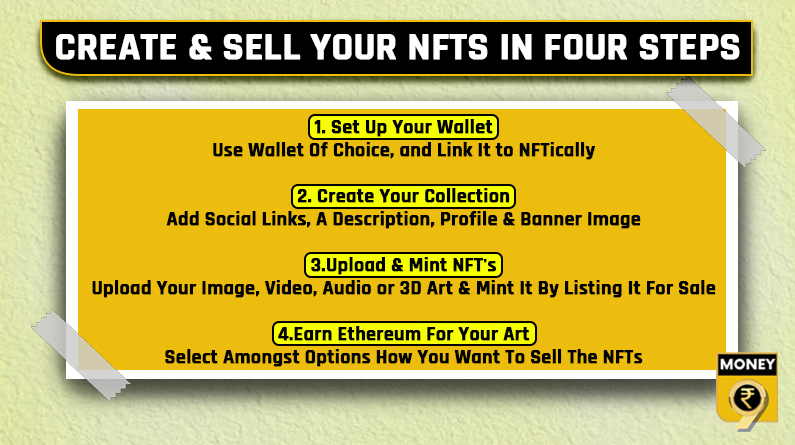 Cost of NFT
An NFT's value is whatever the buyer sees in it. Besides the cost of the artwork there are other charges. For example, WazirX charges a 5% fee to the seller on selling the NFT but there is no platform fee for buyers. Moreover, WazirX NFT marketplace is powered by the Binance Smart Chain, which brings the gas fee– a sum required to mint the NFT via a blockchain – about $1. Similarly, NFTically charges a fee of 1.5% on sales occurring on the artist's own store, and charge a 2.5% fee for sales on the NFTically marketplace. Then there is a gas fee for using the blockchain.
NFT regulations?
At the moment, India has no marketplaces where you can buy an NFT directly using INR. Since NFTs are backed by cryptocurrencies, the regulations applied to cryptocurrencies should apply to NFTs as well. However, one has to wait for the government to come up with clear laws.
(Follow Money9 for latest Personal finance stories and Market Updates)