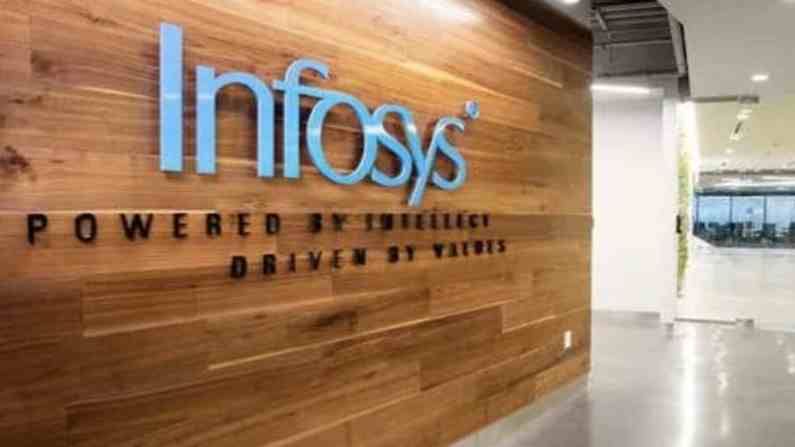 India's second largest IT company reported a net profit of Rs 5,421 crore for Q2 beating street estimates. The net profit rose 4.4% sequentially. Infosys also raised its constant currency guidance to 16.5-17.5% for FY22, from 14-16%.
Shares of India's second-largest IT services company by market capitalization, Infosys advanced 4.40% to Rs 1,784 a piece after the company announced stellar Q2FY22 numbers. It reported consolidated profit at Rs 5,421 crore in the quarter ended September 2021 quarter. The net profit marks an increase of 11.9% year-on-year and 4.4% compared to Rs 5,195 crore in the June quarter.
Its top line increased to Rs 29,602 crore during the period as compared to Rs 27,896 crore in the previous quarter, a sequential growth of 6.1% and a growth of 20.5% compared with the corresponding period last year when the company had reported revenue of Rs 24,570 crore. The revenue growth came on the back of strong revenue contribution from the Daimler deal, higher adoption of digital transformation by clients, broad-based growth across verticals and geographies, and strong seasonality.
Operating margins for the quarter ended September 2021 were down due to supply-side headwinds and for the quarter stood at 23.6% which was 10 basis points lower than the previous quarter and was down 180 basis points on a YOY basis. That apart the company signed large deals to the tune of $2.15 billion which complements the already very healthy order book and pipeline in digital transformation space for the company. Besides, it has also declared an interim dividend of Rs. 15/share.
Outlook
The company has further increased its revenue growth guidance to 16.5%-17.5% from 14%-16% given earlier. While the margin guidance remains unchanged at 22%-24%. This has made brokerages excited about the stocks here is what they have to say:
CLSA | Rating: Buy | Price target: Rs 2,060
The global brokerage firms believe that results are reassuring on demand strength & ability to manage rising supply-side constraints. Besides the company has reported a second consecutive quarter of renewal heavy order booking. It should sustain investor confidence in earnings growth momentum strength and should bridge the valuation gap with TCS. CLSA has raised earnings per share target by 1% each for FY22 and FY23.
Goldman Sachs | Rating: Buy | Price target: Rs 2,149
Infosys continue to be the fastest-growing large-cap IT company. Goldman Sachs has increased revenue growth forecast but cut down on margin leading EPS (earnings per share) change by -2% to + 2% over FY22 to FY26. The broking firm has reiterated the 'Buy' rating given best-in-class digital capability & seamless management execution.
Phillip Capital | Rating: Buy | Price target: Rs 2,150
Infosys is at the cusp of an unprecedented demand environment, triggered by compressed digital transformation. Phillip Capital revises its FY22/23 estimates (2%/2%) on revenue beat in this quarter and bright outlook. It also upgrades its target multiple for Infosys to 32x average of FY23 and FY24 PE (earlier 30x) – still at 10% discount to its target multiple for TCS (35x). Price target of Rs 2150 (Rs 1980 earlier).
Sharekhan | Rating: Buy | Price target: Rs 2,050
Infosys reported strong quarterly performance across financial parameters, along with a strong deal pipeline, robust net hiring, higher utilisation, and healthy client additions. The sequential margin decline was lower led by operating leverage, S G&A benefits, and currency tailwinds. Cash conversion in terms of free cash flow (FCF) to net profit and FCF to EBITDA (earnings before interest tax depreciation & amortization) remained healthy at 97% and 76%, respectively. Infosys is well placed to deliver industry-leading organic growth among large peers in the medium term, given broad-based demand, strong deal pipeline, and market share gains. Net profit to report a 15% CAGR over FY22-FY24E.
Motilal Oswal | Rating: Buy | Price target: Rs 1,960
Positively surprised by the increase in its FY22 USD revenue growth guidance to 16.5-17.5% YoY CC (from 14-16%), an increase of 200 basis points. Motilal Oswal increased FY22E EPS estimate by 2% on stronger than expected performance in 2Q. However, its FY23E EPS estimate remains unchanged. It continues to see Infosys as a key beneficiary of an acceleration in IT spends, given its capabilities around Cloud and Digital transformation.
(Follow Money9 for latest Personal finance stories and Market Updates)