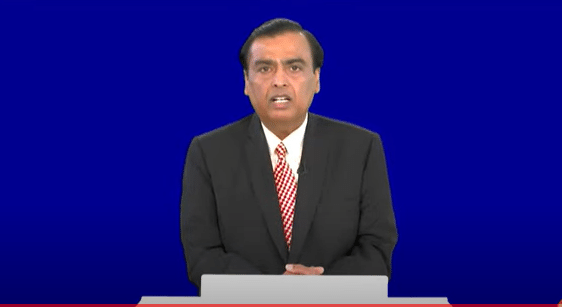 RIL Chairman Mukesh Ambani at the company's 'Green AGM' on Thursday committed Rs 75,000 crore over the next three years to set up an integrated Green Energy Giga Complex across 5,000 acres in Jamnagar.
RIL Chairman and Managing Director Mukesh Ambani on June 24 announced various plans across businesses and launched JioPhone Next at the 44th Annual General Meeting. However, shares of Reliance Industries closed 2.35% down at Rs 2153.35, while the benchmark BSE Sensex gained 393 points, or 0.75%, to 52699. Here are the key takeaways from Reliance Industries 44th AGM:
JioPhone Next:  He announced the launch of a fully featured smartphone co-developed by Google and Jio. The phone will have features like a voice assistant, automatic read-aloud of screen text, language translation, smart camera with augmented reality filters. The phone will be available in the market on Ganesh Chaturthi, September 10.
"The phone will be the most affordable phone globally," said Ambani.
Financials: FY21 business performance and financial success exceeded our expectations. The company raised Rs 3,23,432 crore in FY21 through investors like Google, Facebook, Brookfield, among others.
Jobs: Reliance added 75000 new jobs to the economy last year.
New appointment: RIL announced the appointment of HE Yasir Al-Rumayyan, chairman of Saudi Aramco and governor of the kingdom's wealth fund Public Investment Fund, on its board during AGM. "His joining on board is also internationalisation of Reliance. You will hear more about our international plans in the times to come," said Mukesh Ambani.
Energy business: Announced the launch of a new energy business that will bridge the green energy divide in India and globally. Over the next three years, the company will spend Rs 60,000 crore in new energy and material businesses. He further added that Reliance will be able to produce 100 GW out of India's 450 GW by 2030.
For shareholders: Mukesh Ambani said that the company has a proven track record of creating maximum societal value and maximum shareholder value through business operations as well as philanthropic initiatives. "The year has proved, beyond doubt, the resilience of our businesses and our ability to continuously innovate to create value even in adverse conditions. I believe the best of Reliance is yet to come," he said.
Reliance Retail: Despite challenging and restrictive operating conditions, Reliance Retail continued to deliver industry leading returns. It added 1,500 new stores, which is amongst the largest retail expansion undertaken by any retailer during this period, taking our store count to 12,711. "We continue to maintain and strengthen our leadership position," said Ambani.
Other updates: The company has launched an initial set of integration between JioMart and Facebook on trial basis. With Microsoft, RIL has operationalised 10 MW capacity of Jio-Azure Cloud data centres.
Analyst view: VK Vijayakumar, Chief Investment Strategist at Geojit Financial Services said, "The highlight of the 44th RIL AGM is chairman Mukesh Ambani's announcement of the launch of a truly transformational clean energy ecosystem which will "transform India from a major importer of fossil fuels to an exporter of clean energy."
He further added that the announcement of Rs 75000 crore investment in the next 3 years in 4 Giga factories will mark a seismic shift in India's clean energy pursuit. The affirmation that RIL will make clean energy a truly global business is good news not only for the planet but for shareholders too. "The announcement of an ultra-affordable smartphone jointly developed by RIL and Google to be launched in September has the potential to accelerate India's digitization drive. RIL's plan to substantially scale up clean energy and digital technology has the potential to transform RIL into a leading global company in sync with a sustainable planet," Vijayakumar added.
(Follow Money9 for latest Personal finance stories and Market Updates)