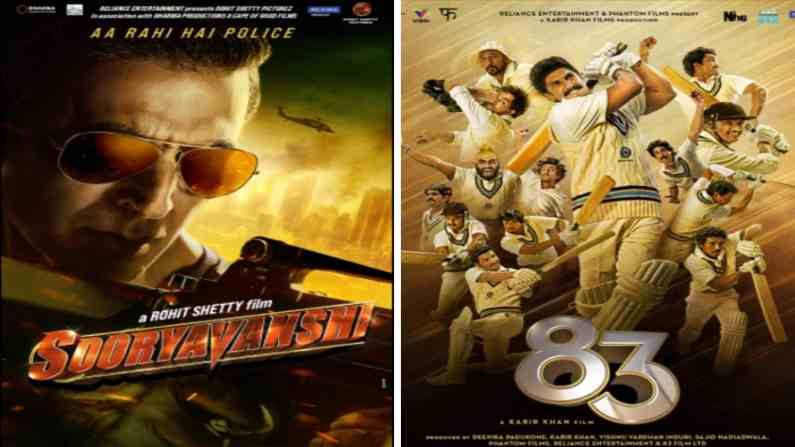 For bollywood, Maharashtra is the focal point as it accounts for an all-India box office collection of between 27%-30%, and largely determines the success and failure of a movie. Also, 32 of the 100 films are hindi.
Shares of two multiplex operators PVR and Inox Leisure are on a roll after theatres and auditoriums in Maharashtra will open after 22nd October 2021 while observing all Covid safety protocols. SOP (standard operating procedure) is in the works and will be declared soon, the Office of Chief Minister Uddhav Thackeray tweeted on 25 September 2021.
Over the past month shares of PVR has advanced 16.11% and that of Inox Leisure zoomed 21.33% while Sensex surged 4.64% during the same period.
Soon after the reopening announcement, the release dates of two big Bollywood releases were finalised – 'Sooryavanshi' on Nov 4th (Diwali weekend) and '83' on Dec 24th (Christmas weekend); there would now be 10 Bollywood releases in Dec quarter itself – a sharp contrast to FY21 when not a single big Bollywood movie released during the five post lockdown months when cinemas were allowed to function.
With both PVR, Inox Leisure now significantly off the lower levels seen during the earlier part of the second wave, JM Financial took a fresh look at the investment case. "One interesting parallel, using other retail-based businesses, is that stocks like Titan and Jubilant Foodworks that have witnessed near-complete recovery towards end-FY21 and gains from sector consolidation are now quoting at a significant premium to their pre-pandemic trading multiples. In contrast, multiplexes, where on-ground recovery is yet to play out, are still quoting at a significant discount. Expect near-total recovery for multiplexes in Q4FY22 (relaxation of restrictions, improved consumer sentiments and importantly, normalisation of movie-release calendar), which coupled with on-going consolidation, could also drive a rerating of the kind seen in some of the above-mentioned businesses," said Vicky Punjabi of JM Financial.
Theatrical releases a better platform
Intrinsic profitability for multiplexes should surpass the levels seen before the pandemic aided by some retention of the cost savings effected over the course of the past 12-16 months as well as normalisation of theatre occupancies.
"One perceived risk to occupancies has been the increased OTT penetration but the experience of past 12m made it abundantly clear that movies released directly on OTT (including some big Bollywood movies) have received a pretty lacklustre response from audience movies released in theatres pre-lockdown. This was also evident in comparison of Hollywood movies like 'F9: The Fast Saga' and 'Black Widow' – the global collections of the former were nearly 2x the latter as 'F9' had an exclusive theatrical release while 'Black Widow' had a simultaneous release in theatres and OTT," noted a report released by JM Financial.
Given the theatrical release remains the best way to monetise movie content, content producers to revert back to theatrical windows which should help drive occupancies to pre-pandemic levels over a period of time, Punjabi added.
Stock play
While both PVR and Inox benefit considerably, Inox remains JM Financial's favoured pick given its efficient capital-allocation practices and a strong BS. Even after the recent rally, the Inox stock is not even completely capturing the number of screens that it already has under operation, notwithstanding the favourable prospects for future growth.
The brokerage firm has set a price target of Rs 455 for Inox Leisure implying a 22% upside from current levels. Whereas for PVR it sees a 17% upside with a price target of Rs 1,825 per share.
(Disclaimer: The recommendations in this story are by the respective research and brokerage firm. Money9 & its management do not bear any responsibility for their investment advice. Please consult your investment advisor before investing.)
(Follow Money9 for latest Personal finance stories and Market Updates)