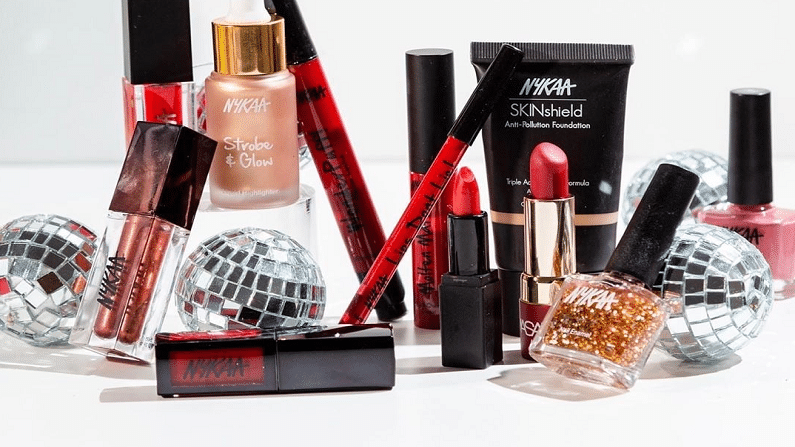 At the upper band of Rs 1,125 its price to sales for FY21 comes around 21.6x which may look expensive but that's how the start-ups are valued.
The much-awaited initial public offering (IPO) of Rs 5,351.92-crore FSN E-Commerce Ventures, the parent company of India's biggest cosmetics and personal care products etailer Nykaa is set to open for subscription tomorrow October 28. The bidding for the issue will close on November 01. The cosmetic etailer has fixed a price band of Rs 1,085-1,125 per share having a face value of Rs 1 per share.
An investors can bid for a minimum of 12 equity shares and in multiples, thereafter, translating to a minimum bidding amount of Rs 13,500 at the higher end of the price band. A retail investor can at max apply for 14 lots or 168 shares for Rs 1,89,000.
The Rs 5,351.92-crore public offer comprises fresh issuance of equity shares of Rs 630 crore, and an OFS (offer for sale) of Rs 4721.92 crore by existing selling shareholders TPG, Light House India Fund, JM Financial, Yogesh Agencies, Sunil Kant Munjal, Harindarpal Singh Banga, Narotam Sekhsaria and Mala Gaonkar. Promoter Sanjay Nayar Family Trust will sell 4.8 million shares.
The company will utilise the net proceeds from the fresh issue towards setting up of new retail stores, warehouses, repayment or prepayment, of outstanding borrowings, creating brand awareness and for general corporate purposes.
Grey market chatter
Ahead of the IPO shares of the company were trading at Rs 1,730 apiece in the grey market marking a premium of Rs 605 or 53.77% at the upper price band of Rs 1,125.
"As the countdown of Nykaa IPO begins, the market looks passionate for the company as unlike the cash-burning and loss-making startups, Nykaa is a profitable one. Its revenue grew over 38% in FY2021 as compared to FY2020. With approx. 8% penetration, beauty and personal care segment in E-commerce category are one of the most underpenetrated segment compared to matured e-tailing categories providing huge scope for start-ups like Nykaa," explained Abhay Doshi, Founder of Unlisted Arena.
At the upper band of Rs 1,125, its price to sales for FY21 comes around 21.6x which may look expensive but that's how the start-ups are valued currently, Doshi added.
Should you subscribe?
Most brokerages are upbeat about the issue, here is what they have to say:
Anand Rathi | Rating: Subscribe for long term
Nykaa is the largest Specialty Beauty and Personal Care platform in India in terms of value of products sold in FY21. The company at the upper band of the IPO is offered at 21.6x price to
sales for FY21. The valuation of the IPO is rich, demanding a market cap of R. 53,204 crore. There are no listed companies in India that engage in a business similar to that of the Company. Accordingly, the company has a unique business proposition amongst its customer base and also has an aspirational brand image which augurs well for the company in the long term.
Moreover, the rise of digital-only brands and the direct-to-customer online channel has introduced innovative and effective ways for brands to sell. Local emerging brands have also witnessed increased popularity and following in recent times. Considering the future prospect for the company and it being placed at a sweet spot as the first-mover advantage.
Motilal Oswal | Rating: Subscribe
Nykaa holds a leadership position in online BPC (Beauty & personal care) market, customer centric approach, profitable tech platform and capital efficient business model. The issue is valued at 16.1x FY22 EV/Sales on a post issue and annualized basis, which seems to be similar to other Indian unicorns. Nykaa is rightly placed to tap the high growth digital/online penetration in BPC/Fashion market.
Marwadi Shares & Finance | Rating: Subscribe (with caution)
Considering the trailing twelve months (Jun 2021) adjusted EPS (Earnings Per Share) of Rs 2.54 on the post-issue basis, the company is going to list at a P/E of 443.46 with a market cap of Rs 53,204 crore. There are no listed companies in India whose business is comparable with that of the company's business. The company is one of the leading lifestyle-focused consumer technology platforms and a preferred destination for luxury and prestige products in India for consumers and brands. However, valuations on an absolute basis based on past financials keep us cautious at the same time.
Prabhudas Lilladher | Rating: Subscribe
Nykaa has revolutionized the art of online retailing of BPC products in India. Nykaa has been able to create a strong consumer following and 70% repeat purchase led by the inventory led BPC Model which ensures authenticity and guarantee of the quality, wide product range offered by Nykaa as against low fill rates, stock-outs and limited assortment in physical stores. Ability to bring global brands like Estee lauder, Huda Beauty, Charlotte Tilbury etc. to Indian consumers and private labels like Nykaa Beauty, Nykaa Naturals, Kay Beauty.
Nykaa can sustain a CAGR of ~35% in sales, 50% in EBIDTA over the coming few years with double-digit margins. The IPO is valued at 12.6x EV(Enterprise Value) /GMV (Gross merchandise value) on FY21 sales and ~4.7xEV/GMV on FY24 sales offers long term value.
(Disclaimer: Stocks recommendations by experts or brokerages are their own and not those of the website or its management. Money9.com advises market participants to check with certified experts before taking any buy, sell or hold decisions.)
(Follow Money9 for latest Personal finance stories and Market Updates)