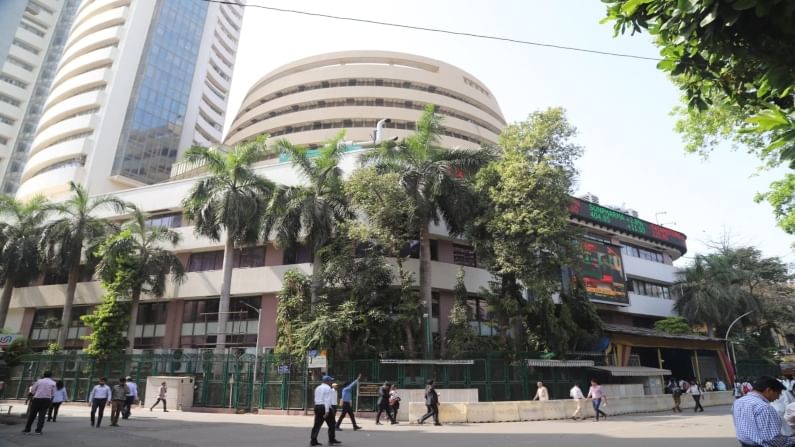 Due to the vast majority of trading volume on rival NSE, the BSE did not specify how many of these investor accounts are active or only for mutual fund investments.
Equity indices snapped a three-day winning run and ended a volatile trading session with small losses on Friday. The Nifty closed below the 17,600 mark amid selling pressure in metals, realty and PSU bank stocks. Media and financial stocks bucked the weak market trend. As per the provisional closing data, the barometer index, the S&P BSE Sensex, fell 125.27 points or 0.21% at 59,015.84. The Nifty 50 index was down 44.35 points or 0.25% at 17,585.85.
The Sensex hit a record high of 59,737.32 while the Nifty hit an all-time high of 17,792.95 in morning trade. The broader market saw more selling than benchmark indices. The S&P BSE Mid-Cap index declined 1.14% while the S&P BSE Small-Cap index fell 1.06%.
Investors booked profits after a three-day rally in key indices. The Nifty corrected after rising 1.58% while the Sensex added 1.66% in three trading sessions. The market breadth was weak. On the BSE, 1,245 shares rose and 2,047 shares fell. A total of 150 shares were unchanged.
COVID-19 Update:
Total COVID-19 confirmed cases worldwide stood at 22,70,26,185 with 46,69,992 deaths. India reported 3,39,056 active cases of COVID-19 infection and 4,44,248 deaths while 3,25,98,424 patients have been discharged, according to the data from the Ministry of Health and Family Welfare, Government of India.
In the last 24 hours, India added 34,403 new COVID-19 cases. Active cases accounted for 1.02% of total cases. Recovery Rate currently stood at 97.65% with 37,950 recoveries in the last 24 hours taking the total recoveries to 3,25,98,424.
Economy:
The Union Cabinet has approved a central government guarantee of up to Rs 30,600 crore to back security receipts (SRs) to be issued by National Asset Reconstruction Company Limited (NARCL) for acquiring stressed loan assets. The government guarantee, which will be valid for five years, can be invoked by NARCL for meeting the shortfall between the face value of the SRs and the actual realization upon resolution or liquidation. GoI's guarantee will also enhance the liquidity of SRs as such SRs are tradable.
NARCL proposes to acquire stressed assets of about Rs 2 lakh crore in phases within extant regulations of Reserve Bank of India (RBI). It intends to acquire these through 15% cash and 85% in SRs. NARCL has been incorporated under the Companies Act and has applied to RBI for license as an Asset Reconstruction Company (ARC). NARCL has been set up by banks to aggregate and consolidate stressed assets for their subsequent resolution. PSBs will maintain 51% ownership in NARCL.
The government is also setting up an India Debt Resolution Company Ltd (IDRCL) to manage the Non-Performing Assets (NPAs). IDRCL is a service company/operational entity which will manage the asset and engage market professionals and turnaround experts. Public Sector Banks (PSBs) and Public FIs will hold a maximum of 49% stake and the rest will be with private-sector lenders. The NARCL will acquire assets by making an offer to the lead bank. Once NARCL's offer is accepted, then, IDRCL will be engaged for management and value addition.
Stocks in Spotlight:
Hero MotoCorp rose 0.34%. The company will make an upward revision in the ex-showroom prices of its motorcycles and scooters, with effect from 20 September 2021. The price hike across the range of motorcycles and scooters will be up to Rs 3,000. The exact quantum of increase will depend on the model and the market.
Kotak Mahindra Bank advanced 4.89% after Kotak Mahindra Group acquired the vehicle financing loan portfolio of Volkswagen Finance (VWFPL), the Indian financing arm of Volkswagen Group. Kotak Mahindra Prime (Kotak Prime) will acquire the passenger cars and two-wheelers portfolio, and Kotak Mahindra Bank (KMBL) will acquire the commercial vehicles portfolio of VWFPL. Kotak Mahindra Prime is a subsidiary of Kotak Mahindra Bank and is in the business of financing all passenger vehicles & two-wheelers.
KEI Industries rose 0.39%. The credit ratings agency ICRA upgraded its rating on the long-term and short-term bank facilities/debt instruments of the company. ICRA upgraded the company's long-term rating to '[ICRA] AA-' from '[ICRA] A+', the short-term rating to '[ICRA] A1+' from '[ICRA] A1' and the medium-term rating (the fixed deposit rating) to '[ICRA] MAA-' from '[ICRA] MA+'.
Cosmo Films rose 2.95% to Rs 1535.95 after the company's board approved setting up of new production line for biaxially oriented poly propylene (BOPP) film at Aurangabad, Maharashtra with rated capacity of 67,000 MT annually. The new BOPP line will require an investment of Rs 350 crore and this funding will be met via internal accrual, debts. The line is expected to commence production by FY2024-25.
Brightcom Group hit an upper circuit of 5% at Rs 41.45 after the company said its board approved allotment of 1.50 crore convertible warrants at Rs 37.77 each on a preferential basis to Shankar Sharma. The board of Brightcom Group yesterday approved issuing 1,50,00,000 warrants at Rs 37.77 each (face value of Rs 2 each), convertible into equal number of equity shares, on a preferential basis to Shankar Sharma. Sharma is vice chairman & joint managing director of First Global, an investment management firm. The board also approved issuing 14,01,50,000 equity shares to 29 Sebi registered FPIs and other investors through a preferential allotment at Rs 37.77, aggregating to Rs 529.34 crore.
Rajesh Exports fell 4%. The company bagged an order worth Rs 691 crore for a designer range of jewellery from Germany, to be executed by December 2021. The company said it will be executing the order from its own manufacturing facility, which possesses a processing capacity of 250 tons of jewellery and gold products per annum.
Poonawalla Fincorp jumped 3.37%. The company's managing director, Abhay Bhutada, resigned on Thursday, a day after being barred from the securities markets by Sebi for alleged insider trading. The Securities and Exchange Board of India (Sebi) on Wednesday passed an interim order banning Poonawalla Fincorp's MD and CEO Ajay Bhutada and seven others from the securities market after they were found guilty in an insider trading case.
Global Markets:
Shares in Europe traded higher while Asian markets ended on a mixed note on Friday. The U.K. retail sales fell unexpectedly in August 2021, dropping 0.9% month-on-month (M-o-M). The fourth consecutive monthly decline marks the longest negative streak since records began.
Most U.S. stocks ended lower on Thursday after swinging between gains and losses after unexpectedly strong retail sales data underscored the strength of the U.S. economic recovery.
The US retail sales increased in August, rising 0.7% from the previous month. The initial estimate for July, however, was revised down to a decline of nearly 2% from a month-over-month gain of 0.5%. Meanwhile, the latest unemployment insurance weekly data showed 3,32,000 first-time jobless claims last week.
Powered by Capital Market – Live News
(Follow Money9 for latest Personal finance stories and Market Updates)