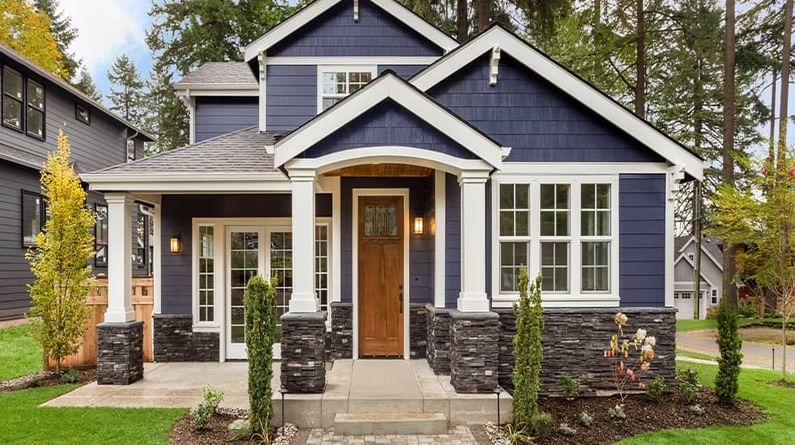 The bank loan funding provided by scheduled / nationalised banks are generally available up to 4 times the annual income, and some co-operative banks even provide up to 5-6 times the annual income. (Representative Image)
Buying a house is a long-term commitment, so it's critical for you as a homebuyer not to overextend your finances, whether it's your own money or borrowed money from a bank. After considering your regular monthly expenses and savings, you should choose the loan tenure based on the EMI outflow for various loan terms (say 15 / 20 / 25, 35 years) and then select the tenure that best suits you.
"The bank funding is generally available up to 85%-90% of the property value depending on the age of the building and the tenure can for 15-35 years. The bank loan funding provided by scheduled/nationalised banks are generally available up to 4 times the annual income, and some co-operative banks even provide up to 5-6 times the annual income," said Suresh Surana, founder of RSM India.
However, the duration of a home loan is determined by various criteria, including the needs of the borrower, their ability to repay the loan, and their age. Before selecting, it's critical to weigh the advantages of both a longer tenure and a shorter one.
Let's look at how to get a fix on the EMI and tenure when going for a home loan:
EMI and tenure
An individual's income and repayment capacity determine how much a person can borrow and whether or not they are eligible for a house loan. Long-term borrowers have greater access to loans because of the increased loan eligibility. Homebuyers will have more options as their eligibility for a mortgage loan has been expanded.
"Choosing a long-term loan keeps the EMIs low as compared to a short or a medium-term loan. Various financial institutions offer longer tenures at attractive interest rates on home loans, particularly during the festive season," said Rajan Pental, Global Head – Retail Banking, Yes Bank.
Long-term EMIs
While taking out a 20-30 year loan to save money on EMIs may be appealing, the interest paid on a loan over such a lengthy period is exorbitantly high, sometimes exceeding the principal loan amount.
"The first principles of borrowing are smartly summarised in the old saying, 'live within your means. While taking a home loan, bear in mind the EMI amount. Ideally, your monthly outflow after fulfilling all your loan EMIs should not exceed 40-50% of your monthly income," said Pramod Kathuria, Co-founder and CEO, Easiloan.com.
Endnote
To minimise interest and retain a healthy loan-to-income ratio, it's critical to strike a balance between loan tenure and EMI. You may have trouble repaying EMIs from short-term loans because your repayment capacity is limited; thus, a longer payback term becomes more important.
If your income rises, you have the option of making a course correction and increasing your EMI accordingly. The experts also emphasize other factors to take into consideration besides tenure and funding options.
"A homebuyer should check while buying a house property include RERA registration, developer's track record, property title search, other incidental costs (stamp duty, agent's commission, registration, etc), GST in case of under-construction property, withholding tax on the purchase, other legal documentation such as Occupation Certificate (OC), Intimation of Disapproval (IOD), Completion Certificate (CC), as is applicable, etc," said Surana.
(Follow Money9 for latest Personal finance stories and Market Updates)