SFBs are regulated by the RBI and follow compliance norms similar to normal commercial banks. (Representative Image - Pixabay)
In the past few years all major commercial banks, whether PSU or private, have lowered their interest rates on Fixed Deposits (FDs). But the small finance banks (SFB), a special category of banks given license by the Reserve Bank to cater to the needs of those at the bottom of the pyramid, were offering rates that were higher than the commercial banks.
However, in the past few months, even SFBs have lowered FD rates by 25-100 basis points on different maturities.
Latest revision
Suryoday Small Finance Bank is the latest in the list of the SFBs that cut deposit rates. New interest rates are applicable from June 21, 2021. In this round the bank has lowered FD rates by 25 to 100 basis points on different tenures.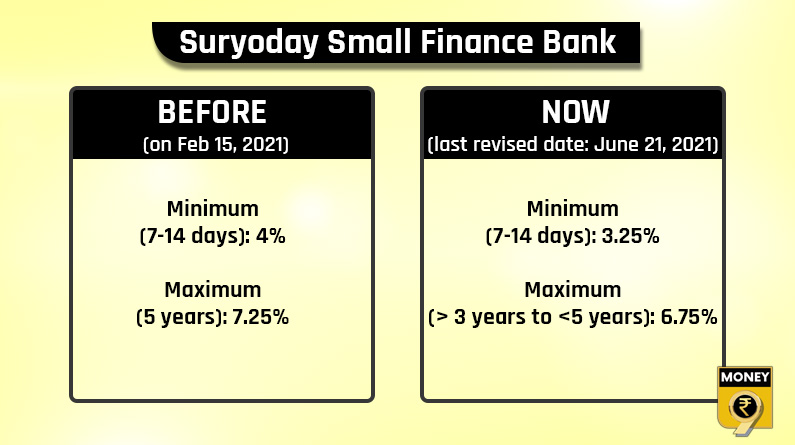 The highest reduction is on the five-year FD. Now the general customer will get a 6.25% rate of interest compared to 7.25% earlier.
After this revision Suryoday Small Finance Bank would be offering a minimum rate of 3.25% interest rates on FD's.
Other banks
Earlier this month, Equitas Small Finance Bank also reduced interest rates on FDs. The highest rate it offers is 6.50%. It is applicable on FD of 888 days. The minimum interest rate of 3.50% on FD between 7 to 14 days.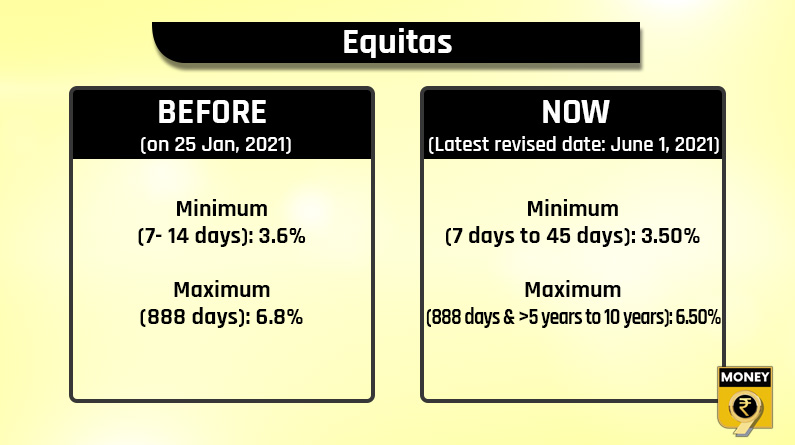 Jana Small Finance Bank had lowered interest rates last month and AU Small Finance Bank did in April this year.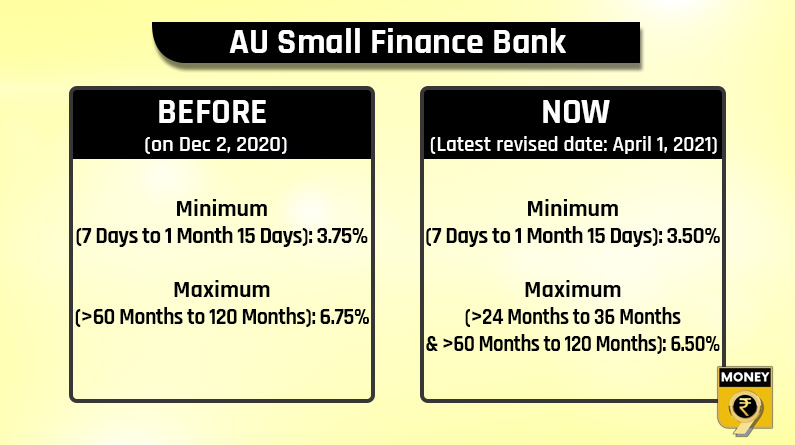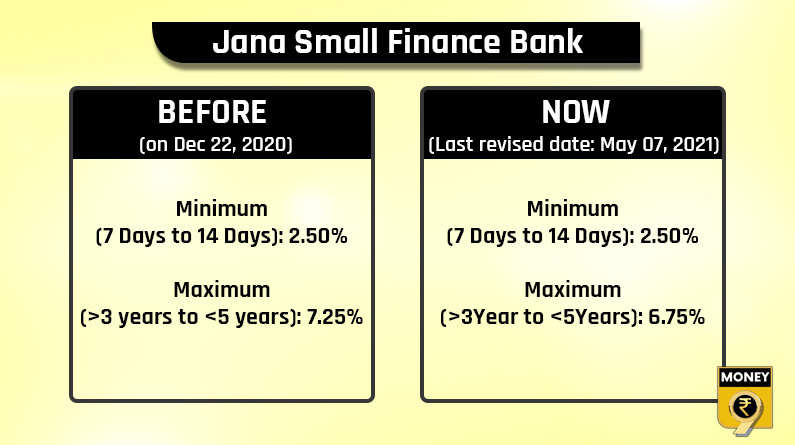 Attractive rates
Despite the latest cuts, small finance banks are offering attractive rates on FDs compared to major commercial banks. Some small finance banks offer as high as 7% interest rate on FDs.
Utkarsh Small Finance Bank and North East Small Finance Bank are offering 7% interest rates on FDs to the general public.
What are SFBs?
The Union Budget of 2014-15 first announced the policy that a special category of small finance banks would be set up. The basic objective was furthering financial inclusion through serving banking activities to un-served and underserved sections of the society.
SFBs are regulated by the RBI and follow compliance norms similar to normal commercial banks. They give a minimum of 75% of their loans to the priority sector.
The very fact that these banks do not have very big loan exposures to a single corporate group seems to be one of the factors that increase their security.
Small finance banks can undertake basic banking activities including lending and taking deposits.
(Follow Money9 for latest Personal finance stories and Market Updates)