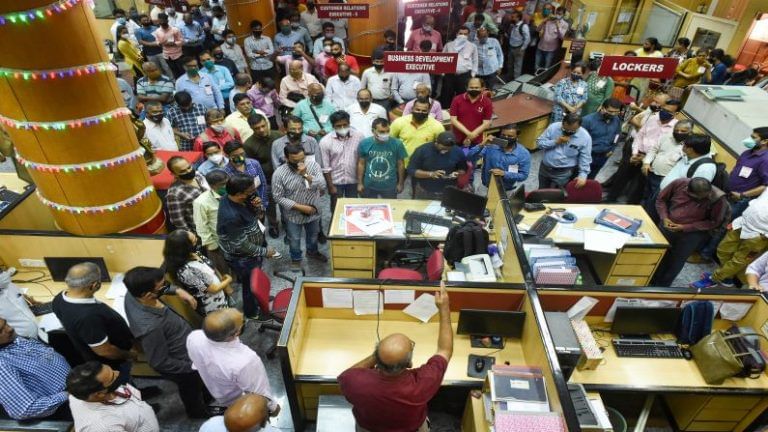 Banks will remain closed for up to 15 days
Banks across the country would be closed for almost half of the month in August in many states. If you have any urgent business with the bank coming up, plan it accordingly.
According to the Reserve bank of India (RBI) holiday list, banks across the country would remain close for 15 days taking into account state-specific leaves and the weekends. From this list of 15 holidays, 7 days are the usual weekends off, while the other eight stand as the RBI-listed holidays.
These eight leaves are a combination of state-specific leaves, religious celebrations and festivals.
The RBI has listed these holidays under three categories – 'Holiday under Negotiable Instruments Act and Real-Time Gross Settlement Holiday' and 'Banks' Closing of Accounts'.
15 days
August 1 is the first Sunday of the month. Other Sundays are August 8, 15, 22, and 29.
The second and fourth Saturdays on August 14 and 28 would also be holidays.
Besides these weekly offs, all banks of Imphal will be closed on August 13, on account of Patriot's day.
August 15, Independence Day falls on Sunday.
On August 16, banks from Mumbai and Gujarat will remain closed for Parsi New Year.
Due to Muharram, banks in almost 16-17 states will remain closed on August 19 which is a Thursday.
On August 20, due to Muharram and Onam banks will remain closed in the city of Bengaluru, Chennai, Kochi, and Thiruvananthapuram.
In Kochi and Thiruvananthapuram banks will be closed on August 21 too due to Thiruvonam. In both states, banks will also be closed on August 23.
On August 30, due to Janmasthami banks will be closed for business in Ahmedabad, Chandigarh, Chennai, Dehradun, Jaipur, Jammu, Kanpur, Lucknow, Patna, Raipur, Ranchi, Shillong, Shimla, Srinagar, and Gangtok.
In Hyderabad bank will remain closed on August 31 on account of Krishna Ashtami.
Here is the full list of holidays for the month of August 2021
1) August 1, 2021 – Sunday
2) August 8, 2021 – Sunday
3) August 14, 2021 – Second Saturday
4) August 13, 2021 – Patriot's Day (Imphal)
5) August 15, 2021 – Sunday, Independence Day
6) August 16, 2021 – Parsi New Year (Belapur, Mumbai and Nagpur)
7) August 19, 2021 – Muharram or Ashoora (Agartala, Ahmedabad, Belapur, Bhopal, Hyderabad, Jaipur, Jammu, Kanpur, Kolkata, Lucknow, Mumbai, Nagpur, New Delhi, Patna, Raipur, Ranchi and Srinagar)
8) August 20, 2021 – Muharram or First Onam (Bengaluru, Chennai, Kochi and Thiruvananthapuram)
9) August 21, 2021 – Thiruvonam (Thiruvananthapuram and Kochi)
10) August 22, 2021 – Sunday
11) August 23, 2021 – Sree Narayana Guru Jayanthi (Thiruvananthapuram and Kochi)
12) August 28, 2021 – Fourth Saturday
13) August 29, 2021 – Sunday
14) August 30, 2021 – Janmashtami or Krishna Jayanti (Ahmedabad, Chandigarh, Chennai, Dehradun, Jaipur, Jammu, Kanpur, Lucknow, Patna, Raipur, Ranchi, Shillong, Shimla, Srinagar, and Gangtok)
15) August 31, 2021 – Sri Krishna Ashtami (Hyderabad)
(Follow Money9 for latest Personal finance stories and Market Updates)